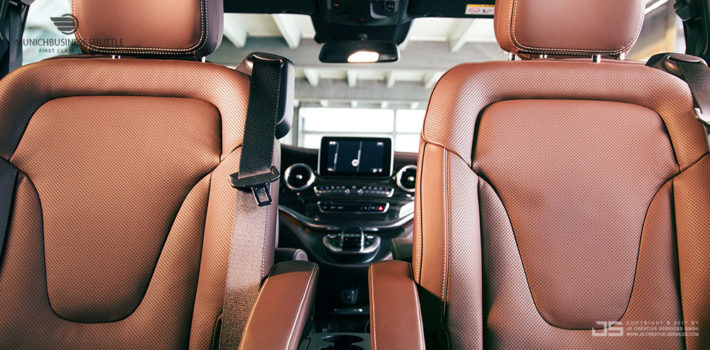 As the second largest airport in Germany, several thousand people pass through Munich Airport every day.
In addition, when they get there, they have to get away somehow. Long waiting times at taxi ranks and overcrowded shuttle buses are not uncommon. Especially in the holiday season, when the number of travelers is multiplying, there is a great crowd here. So that you don't have to stand in the middle of it and wait a long time until you catch a taxi or a seat on the shuttle bus, book your private chauffeur service Munich with Munich Business Shuttle comfortably online or by phone. Whether you are travelling alone or with a business partner and customer, we provide you with an exclusive airport shuttle service. Your personal chauffeur chauffeurs you in a luxury limousine with all comforts.
In your daily business life, one business meeting follows the next and you often don't come to anything? Then use the time in between – while driving. Enjoy our chauffeur service Munich and take care of important things on the road. Clarify things with business partners, arrange appointments or answer your e-mails. This is no problem with our free Wi-Fi. Create the right impression and a good atmosphere with your business partners or customers, with a ride in a limousine with our Chauffeur Service Munich and talk while driving. You do not have to drive yourself, are not at the mercy of the crowd on the road and do not have to worry about finding a parking space. At munich-business-shuttle.com, we offer you a flexible solution with our Chauffeur Service Munich. We provide chauffeurs for your own vehicle or you can rent a limousine with chauffeur from us at any time. Our chauffeur service Munich is available to you professionally and extremely reliably at any time.
We offer you more than just a safe journey from one place to another. With our Chauffeur Service Munich, we provide you with chauffeurs who are sovereign, loyal and discreet! Of course, our chauffeurs are well trained, always professional, reliable and friendly. You can entrust your own vehicle or even your entire fleet to them at any time. In addition, our chauffeurs regularly take part in safety training courses and have been trained on our vehicles. You speak several foreign languages, are familiar with the area and convince with a perfect appearance, perfect manners and first-class service. Therefore, we can offer you an absolutely safe and professional chauffeur service Munich.
Benefit from our first-class chauffeur service Munich. Our chauffeurs are:
familiar with the area
friendly
service oriented
multilingual
trained
helpful
Your advantages at a glance:
You save time because you don't have to wait for a taxi.
You travel stress-free and very comfortable.
You can work while driving or take care of other things.
You make the perfect first impression with us.
You can have yourself chauffeured in your own vehicle or in one of our limousines.
You can book us comfortably online – 365 days a year.
You don't have to worry about anything.
Would you like to drive up exclusively with a limousine and a chauffeur at a conference, wedding or gala? Then book your chauffeur service Munich now, we fulfil every wish! Book with munich-business-shuttle.com the Chauffeur Service Munich!