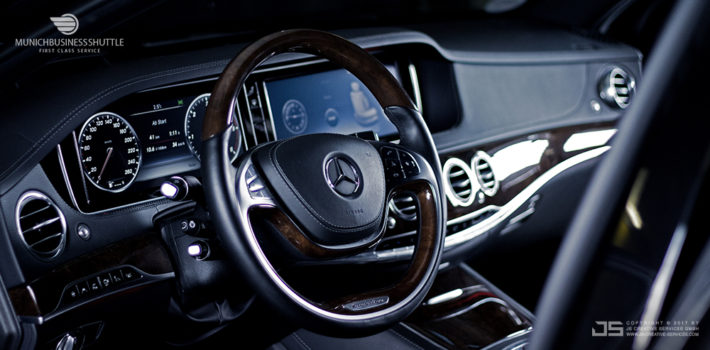 Are you permanently on the move? Do you travel by air and travel is part of your everyday work? Then you are exactly right here with us! Our Munich Airport Transfers take you from Munich Airport in every direction to your destination safely, quickly and very comfortably. You can take advantage of the Munich airport shuttle at any time, no matter whether it is short or long distances, our exclusive limousines bring you to your destination comfortably. With us, you will always travel with local and friendly chauffeurs to make your journey as pleasant as possible. Our chauffeurs are fluent in both the German and the English language, so that communication is easy. Just call us on our service hotline or book the Munich Airport Limousine Service conveniently online at munich-business-shuttle.com.
Our chauffeur will welcome you directly in the arrivals area at the airport with a nametag; this will save you a long search. The Frequent Flyer Bonus gives you a monthly billing of the transfer for your expense report. In addition, we are constantly informed about your flight data and can schedule and react to delays and waiting times in good manner. With our airport transfer there will be no delays, thanks to the latest technology with real-time traffic information. Convince yourself and book your next Munich Airport Transfers online!
Having just landed at Munich Airport, you are already meeting the first business partner or an employee, with whom you can then directly go to the first appointment. Dates, travel times and connections determine your daily routine, and then plan with us and lean back in a relaxed mood! With our Munich Airport Limousine Service you not only travel in comfort, it also makes a good impression on your business partners and customers when you drive up from Munich Airport with our exclusive shuttle service. Whether you are going to hotels, airports, train stations or individual travel destinations, we always offer a reliable service at a high level. Our Munich Airport Transfers save you time and stress – the ideal solution for business travelers!
Waiting times, delays, shabby or too small vehicles, unfriendly drivers – not if you choose us! Munich-business-shuttle.com stands for reliability, exclusivity and a touch of luxury. Discover a completely different way to travel with our Business Airport Transfer. Use our Munich airport shuttle and travel pleasantly and comfortably. Of course, all our limousines are air-conditioned and clean, as well as they have leather upholstery and monitors on the front backrests. This makes a longer trip a relaxed experience. Working and phoning while driving, with our driver service from Munich Airport Transfers is no problem!
The settlement with us is very simple. You book us online, get in your limousine, enjoy a pleasant ride and get off at the destination. You will be spared the payment and acknowledgment in the vehicle. You can conveniently pay for our airport transfer in advance online at munich-business-shuttle.com with your credit card or direct debit and receive the invoice and the booking confirmation directly by email. All you have to do is get in at Munich Airport and drive to your destination. Book your business trip easily and quickly via our online booking portal. Therefore, you can plan your trip early with our service and bookbinding at a low fixed price.