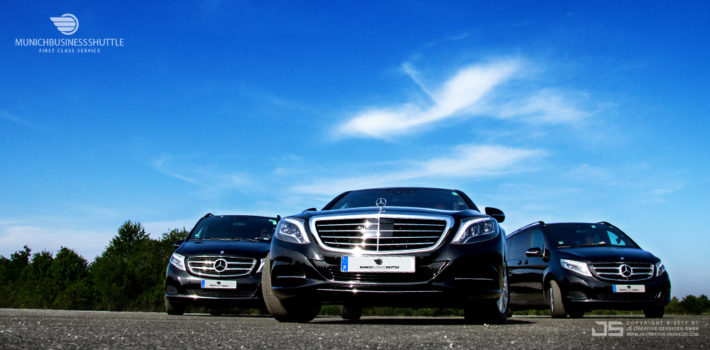 You want to travel exclusively, pick up your business partner or indulge yourself in luxury. Then we are exactly the right contact person for you! Our Munich-based limousine service not only takes you from A to B in Munich, but also takes you to your destination in Germany with first-class luxury limousines and highly qualified chauffeurs. Munich-business-shuttle.com stands for exclusivity and a bit of luxury; of course, the Limousine Service Munich only by professional and local chauffeurs will drive you. That is what our name stands for. They are cared for with the Munich limousine service and individual wishes are fulfilled professionally and reliably. The Limousine Service Munich in Munich and surrounding area stands for high quality and comfortable travels with the best chauffeurs and the most luxurious limousines.
The chauffeurs are trained comprehensively and regularly by our Limousine Service Munich, bringing you punctually and safely to your business appointments and private appointments – see for yourself! Comfortable to reach all destinations – with the Limousine Service Munich! We offer our limousines for different occasions. Whether it is for business purposes, an airport transfer, a stylish wedding limousine or a special effect for your private event. A luxury limousine is always well received! Our chauffeurs drive you to your destination without detours, reliable and relaxed on behalf of our Limousine Service Munich. In Munich and Germany, we are always happy to assist you with bookings. Book your limousine online today!
Our fleet includes only the latest and most modern sedans from high-priced and well-known manufacturers. Of course, these TOP cars are well maintained and well equipped. Simply choose the most suitable sedan for you from the VIP shuttle bus right up to the stretch limousine. Choose which limousine to pick up our Limousine Service Munich from the airport, hotel, fair and all other locations. Whether you travel alone or in a larger group, also for larger events, fairs and corporate events, our Limousine Service Munich is often used.
We are available 24 hours a day, also on public holidays. You can comfortably choose your limousine online, book and pay by credit card or bank transfer. Therefore, you just have to get in later and can fully enjoy the ride without paying at the chauffeur's or beating around with receipts. With us, the satisfaction of our customer is paramount. For this reason punctuality, reliability and discretion are a matter of course for us! Treat yourself to extraordinary, unforgettable and exclusive hours with our Limousine Service Munich.
The Limousine Service Munich prices vary and are always dependent on the limousine as well as the duration. This means that the time to be driven as well as the route to be driven is just as important as your dream car. Of course, different rates apply to our VIP shuttle buses, such as a stretch limousine. You can arrange group prices as well as prices for a "flat rate" with us. Our service stands for a top price-performance ratio and offers a chauffeur service in almost every price range. Send us your request online for our Limousine Service Munich prices. We look forward to your contact and will process your request immediately.