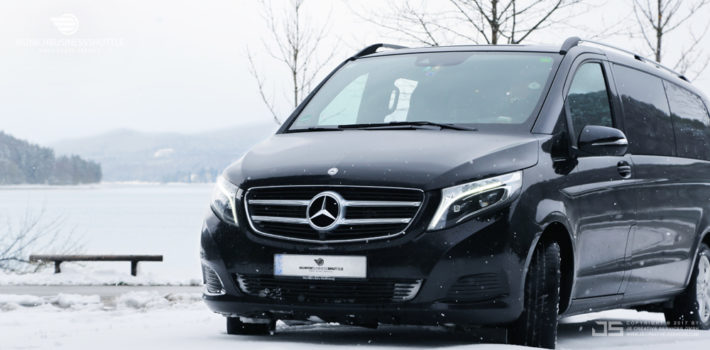 Relaxed from the airport directly to the ski resort to your hotel – No matter if you travel to Kitzbühel, Saalbach or Sölden, you can travel with the Ski Shuttle Munich!
Your next winter vacation is already planned and you cannot wait? If it attracts you to skiing in the mountains, then we recommend our Ski Shuttle Munich. This brings you directly into your hotel in your desired ski area without detours, comfortably and relaxed. If you ski, you know that you sometimes travel with a lot of luggage, possibly even with complete ski equipment. This is not only exhausting but also very annoying. Because at the latest when you arrive at the airport, when you have received your luggage, the stress begins – overcrowded buses or a taxi in which the luggage does not fit completely pure. Towing, waiting and then too little space. Save yourself the trouble with our Ski Shuttle Munich – transfer to the ski areas directly from Munich Airport.
We pick you up punctually and reliably in our exclusive limousines or vans with a friendly and local chauffeur directly at the airport and bring you to your vacation spot. It does not matter if you travel alone, in company or in a group. Simply use our ski transfer with the Ski Shuttle Munich. The ski transfer is available 24 hours, 7 days a week available, even on holidays. Book your personal Ski Shuttle Munich conveniently online or call us. We make sure that you travel quickly, safely and comfortably! Book your Ski Shuttle Munich before the holiday begins and then get directly to Munich Airport in the especially for you reserved sedan. Your personal chauffeur brings you to your hotel in Sölden, Kitzbühel or Saalbach. Travel stress-free and relaxed – with the Ski Shuttle Munich.
Ischgl is a paradise for sports enthusiasts and a unique party location to equal. Young and old meet here, no matter if on top of the mountain on skis or below at Apre Ski in a hut. Ischgl is next to Kitzbühel and Sölden a popular ski stronghold and attracts thousands of tourists every year. The Silvretta Arena, it is one of the largest and most snowy ski resorts in the Alps. Through this ski resort, Ischgl was first known. Some superlative events held annually in Ischgl, characterized one encounters international stars and the world's best athletes. In Ischgl and in Sölden so everyone gets his taste. Kitzbühel, on the other hand, is probably the most famous sports city in the Alps. Every year, thousands are drawn to this beautiful ski resort. Ganz Kitzbühel is designed for the onslaught in the winter months. This is no wonder, because not only Kitzbühel itself but also the entire area in this popular ski resort convinces with incomparable beauty. Kitzbühel has a lot to offer, in addition to a number of known luxury hotels such as the Stanglwirt or the Grand Spa Arosa, here every year find legendary events like the Hahnenkamm races are held and run to the exclusive ambience of the ski resort.
The transfer Munich to Kitzbühel, Saalbach or Sölden, remember that your holiday begins with the arrival. Reliable and safe, we bring you, your family or your friends in a luxurious limousine or in an exclusive Van from Munich airport directly to your hotel in your desired ski area. Ski Shuttle Munich – reliable, safe and unspeakably comfortable.